SPLAT WARZ Battle Games

Splat Warz is a gel blaster battle game that's epic fun for ages 6 and up. We will supply battle bunkers, unlimited gel ammo, 12 gel blasters (6 red,6 blue), safety equipment, and one of our crew will be present to give instructions and referee the battles. Splat Warz is perfect for birthday parties, team building events, bachelor/bachelorette parties, picnics, reunions, or any occasion! Splat Warz ammo is gel based polymer and completely non-toxic and bio-degradable making it safe for both pets and people. Competitive, adrenaline-fueled gaming doesn't have to be messy. Our gel ammo dehydrates and leaves behind no mess. Worried about rain or too much heat, no problem! We have a HUGE 66 ft long battle arena that can be added to your party package.

Recieve one free gel blaster* (up to $40 value) with each booking of a Splat Warz Party. Perfect surprise for the birthday child, bachlor/bachlorette, or gift to someone of your choosing.

*gel blaster design/style may vary.
SPLAT WARZ Battle Games
SPLAT WARZ with Battle Arena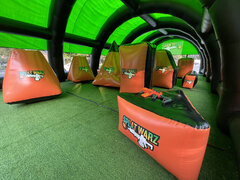 SPLAT WARZ GLOW PARTY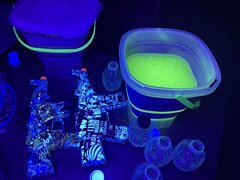 SPLAT WARZ GLOW PARTY with Battle Arena